2019 has been profound, eye-opening and mind-altering.
Highlights
I took 22 flights between Switzerland, Finland, Spain, Germany, Poland, France, Italy and Belgium

I gained about 25 pounds while retaining the same bodyfat percentage.

I wrote 24 blog posts.

I learnt to dance Bachata and Salsa on2.

I started practicing Krav Maga.

I tried out working two days per week.

I got paid to teach dance for the first time.
2019 was the best year of my life so far, continuing the tradition since 2012.
Work
I am still working at FP Complete as a Technical leader, but I am now also slowly starting to take on the role of engineering manager. Around August I started to work half-time to focus on my health. I have now spent the last five months working less than full time, and can confidently assert that working less does not give me more time, or fewer things to do. If anything, I have only gotten more busy because it became harder to say no to things now that I had more time.
Talks
I cut down on the amount of speaking I do in 2019 because I decided not to pay to speak anymore. I still speak for free when my travel, hotel and expenses are compensated. (That's actually quite a silly situation, I know, but I enjoy speaking.) I look forward to deciding not to speak for free anymore either. Speaking is a difficult and impactful task. It deserves to be compensated well.
Travel
Travel this year went by without much trouble. I traveled for work, to speak, and to dance. I did not end up sight-seeing but found plenty of funny signs, my favourite part of traveling.
Technology
Products
I set out to build some products to sell and ended up doing mostly none of that this year. Instead I spent a lot of time building and evangelising Smos. Smos is a comprehensive self-management system. I have now used Smos successfully for more than a year, and it is time the world knew about it and started to join in using and contributing.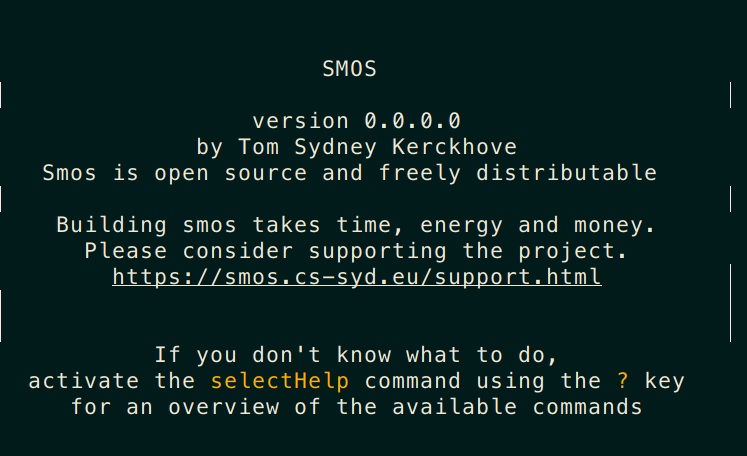 Nix
This year I ended up really learning how to use Nix. I now use Nix to run my all servers using NixOps and recently for my CI using Cachix as well. Recently I have also started using NixOS on my own physical server at home, and that has been a nice learning ground to get experience before I take the leap to using NixOS on my workstations as well.
Health
The year 2019 was a bumpy ride, as far as my health goes. I ended up not writing about my quitting list as much as I expected to. It turns out that I did not feel comfortable talking about why I quit certain things because I did not want to recommend anything, and was mostly just experimenting in many cases. I really was not qualified to argue that what I was doing was healthy.
I also ended up throwing away my quitting list, because I felt that I was terrorising myself instead of choosing to be healthy. It was distracting me from actually trying to be healthy by dogmatically putting myself in a framework of strict rules. This would have been fine if not for the fact that some part of me was rebelling by binge-relapsing some of the things I had told myself not to do. At that point I decided that it was pointless to keep lying to myself about completely abandoning certain things.
Exercise
Nevertheless, my gym efforts have paid off, and I have gained another 25 pounds this year, while retaining my body fat percentage. Spending more time at the gym because I was working less definitely seems to have done my body well.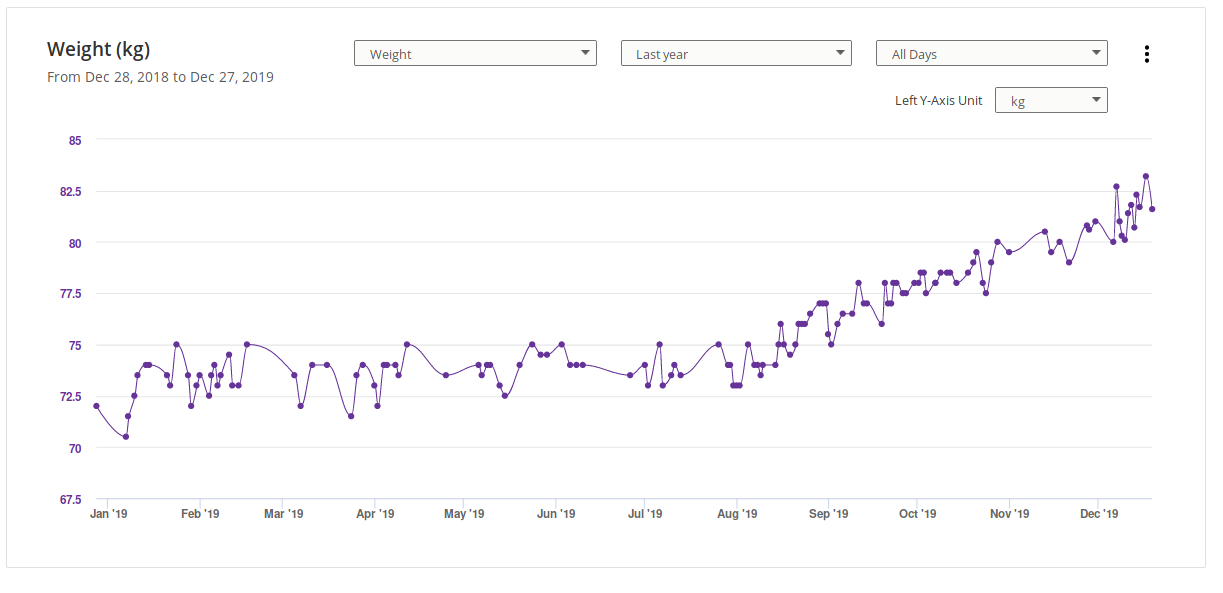 I also picked up Krav Maga as a new hobby. It is a form of realistic street fighting. The experience of real world fighting has been eye opening, and my training has shown me that I still have some psychological issues to work through.
Dance
In 2019, I re-realised how much I love to dance, and set out to learn both old-school Salsa on2 and Bachata. I traveled to Milan, Italy, Leuven, Belgium and Cadiz, Spain to dance bachata and also danced in Poland, Finland and Switzerland. I also ended up giving my first paid salsa class in Zurich.
Focus for 2020
The new decade is exciting. I'm still sticking with my current goals:
Be healthy

Feel happy

Become financially independent.
I'm also keeping the ambitious goal of reaching financial independence by 30. That's by July 2024. So far I'm not on track to reach that at all, but I do think I can make it.
Be healthy
Being healthy is still something I do not really understand. I have found a few ways to go about them, and I will stick to them.
The first is substance control. I will reinstate the idea behind the quitting list, but without the dogma behind it. This means making sure I have my goals in order before I continue abstaining from certain things. It also means that I will no longer be recording the streaks, since they detract from the actual goal of being healthy and focus on the recording.
The next is exercise. I will continue my gym adventure and continue to dance. I also look forward to picking up my fighting training again and learning to dance both Cuban Salsa and Kizomba in 2020.
Feel happy
Feeling happy is probably the most abstract goals in the list. On the whole it is a bit like porn, in the sense that you will know that you are unhappy when you are unhappy.
However, there are some very actionable sub-goals under 'feel happy' such as getting along with friends and family, and feeling at home where I live. That will involve taking learning German seriously, for example.
Become financially independent
As far as work goes, I am now convinced that it is a bad idea for me to work less than I could. I do not just mean "make less money than I could" but rather "take less responsibility than I could". I have found this year, that such a situation puts me on a downwards spiral towards a mental infinite loop between dogmatic rules and rebellion against those rules.