My first night in Zurich went from stressful to horrible. In retrospect, I could have prevented it.
The story
I was going to work in London until Friday 11 SEP in London. The next Monday would be my first day of university at ETH in Zurich, Switzerland. This meant that I had to find accommodation in Zurich remotely.
We had been looking for accommodation for two months when finally things began to look up. My girlfriend had found a post on facebook saying there was this woman in Zurich with a room for rent. She sent me her contact details and I began communicating with this woman. I had chatted with the woman via skype and exchanged emails. She was known as Nerea Sanz and was of Spanish origin.
She sent me a contract and after we both signed it, I transferred the first two months of rent and the deposit. Because her father was living in the UK, I transferred the money in pounds to a UK bank account. We chatted some more afterward and all was well for me to arrive at the flat. We had agreed to meet at 18:00 at the flat.
On Saturday I flew to Zurich with my three big pieces of luggage. At the airport I took a taxi to the flat. I arrived at a big building with hundreds of rooms but there was nobody there.
I had no Internet connection and no cell service because I was new to Zurich. After ten minutes of looking around in confusion and twenty minutes of ringing the apartments bell I started becoming very frustrated. Someone who lived in the building was kind enough to let me in past the front door into the lobby.
The building had WiFi, so I started mailing Miss Sanz and went to her door. I started knocking on the door but nobody answered. I knocked on the neighbor's door but they told me they'd never seen anyone living in the apartment.
It was at that moment that I noticed that my wallet was gone. I had left it in the taxi. I had nowhere to go at this point. I didn't have my ID, nor any bank/credit card and no money.
I had become desperate. The neighbor was kind enough to bring me to a youth hostel and made sure I could stay there for the night. He had saved my day. At the hostel I found out he was a Googler. What are the odds!
The next day I went to the police to report the scam.
Reflection
The entire situation made me feel very stupid. There are definitely ways in which I could have prevented this situation. I find it important to reflect on them.
Taking no time to find accommodation and to rest between working and studying seemed like something I would just have to put up with if I wanted to do both. It may still be, but it caused a very stressful period where I was vulnerable to being scammed. I had to find accommodation urgently, I was not around for any viewings and I was desperate to get it over with.
I don't have a facebook account. My girlfriend sent me the information about the post. At this point I could have already known that this was going to be a scam. The information about 'Nerea' was entirely different from the information on facebook. On facebook she was known as Bouzidi Soroya. Of course I didn't find out about that until afterward.
In a skype chat, she told me her webcam and microphone were broken. This is not necessarily a red flag but it should definitely have warned me.
This is a screenshot of her skype profile. Needless to say I didn't have a close look at this profile before I noticed it was a scam. Let's see if you can find what's wrong with it.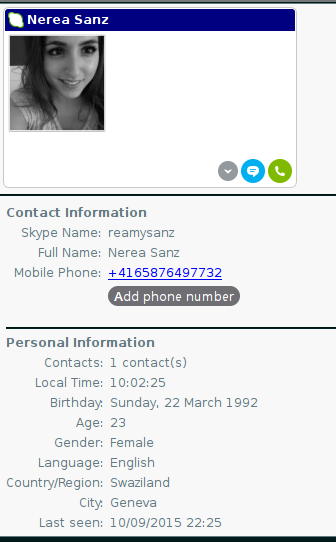 Geneva, Swaziland?! If that wasn't a giveaway, look at the phone number. It's 14 digit's long! There are no phone numbers that long. The biggest red flag here is the '1 contact(s)'. It should have stopped me immediately. The profile was clearly created just for the scam.
Looking her up online, I should have noticed that 'Nerea Sanz' is nowhere to be found online. There are no digital records of her whatsoever.
Conclusion
I lost a lot of money during the scam and a lot of time afterwards. I don't think something like this will happen to me again in the near future and I hope this post will make other people more suspicious as well. I am very thankful for everyone's help, especially the Googler that got me to the hostel and the family I'm staying with right now.